Support Judge Cobbs!
August 3, 2013
Dear Friend,
Electing qualified and fair-minded judges to the bench is one of the most important roles of the electorate.  Please join me in supporting such a candidate:  Judge Cynthia Y. Cobbs.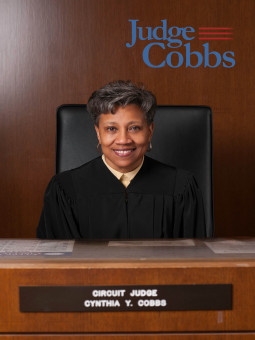 Judge Cynthia Y. Cobbs was the first woman and first African-American to serve as Director of the Administrative Office of the Illinois Courts.  In September, 2011, she was unanimously appointed by the Illinois Supreme Court to the entrusted position of Circuit Court Judge, where she has served with distinction.  Through her deeds, she has demonstrated her commitment to public service, and her willingness to work tirelessly to enhance the fair administration of justice within our courts.  Now, she is running for election to continue doing a job she loves, as a judge on the Circuit Court of Cook County.
 Join me in supporting the candidacy of Judge Cynthia Y. Cobbs on Thursday, August 8, 2013 from 5:30 – 7:30, at a fundraising event at the Rosebud La Rosetta Restaurant, 70 West Madison Street, Chicago, IL.
Your support of Judge Cynthia Y. Cobbs' candidacy will help her deliver her message to the electorate throughout Cook County as she works toward being elected in the March 18, 2014 primary election.
To RSVP for the event, please call 312.375.5072, or click here.  If you cannot attend and would like to make a contribution to The Committee to Elect Judge Cynthia Y. Cobbs, you can show your support by clicking here.  Thank you and I hope to see you at the event. 
Best,
Commissioner Larry R. Rogers, Jr.
Click here to download a copy of the invitation